MANAGING DIRECTOR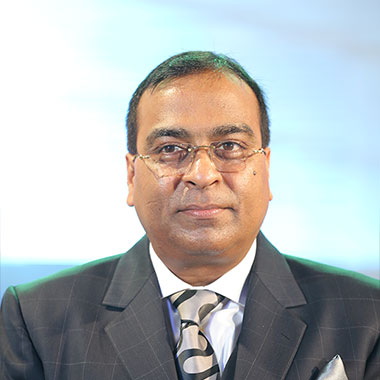 Ajay Kumar Goyanka, 45, B.Com (Hons.) in his early age managed his family trading business for almost more than 20 years and seeing the growth of the Iron industry, in the year 1998 set up a Rolling Mill for manufacturing of MS BARS, FLATS & ANGLES. To meet the demand of products on time and maintain the quality he established his own induction furnace just within one year i.e. in the year 1999. Under his able management and supervision both the units are still producing quality products and giving best results. Seeing the performance of both the units an another unit of Ferro Alloys were set up in the year 2004. Great enthusiasm, courage and some thing to do extra in his region where there are very few industries, in the year 2008 Mr. Goyanka established an another unit for manufacturing of C.I. Mould.  
Further, in his extensive travelling to western and southern region for other opportunities in Steel Industry he gathered information that there is a scope of manufacturing Gratings in the State of Bihar, as a successful and prosperous entrepreneur he set up an unit for manufacturing of ELECTROFORGED GRATINGS along with Galvanizing plant in the month of Feb. 2009. In his guidance now BHOLARAM STEELS PVT. LTD. is one of the best manufacturers of Gratings. After this success he set up a unit on June 2016 for manufacturing of HAND RAILS, CABLE TRAYS and OTHER CUSTOMISED ITEMS so that all our customers can fulfill all there requirements at one place.
WHY BHOLARAM STEELS PVT. LTD.?
We are providing total FLOORING SOLUTION for Platform, Walkways, Stair Treads & Cable Trays. Our customers can get advantage from BHOLARAM STEELS PVT. LTD. in the market because of followings:
Integrated Plant: BRSPL having its own facilities starting from raw material to logistic inline.
Production in Systematic Line: BRSPL managing production in sequence system including in-house Galvanizing facilities with minimum movement of the material.
Location: BRSPL is located near by both national capital "New Delhi" & Commercial capital "Mumbai" Which is easily connected through Road, Air &Water.
Raw Material; We are BIS approved and having our own raw material which leads low costing and negligible transportation charge.
Easy &Affordable Labor: Availability of labor in bulk is very much easier and affordable which help us low costing than any others.
CST: Central Sales Tax is i%for Bihar which leads low costing than others.
PROFILE
BHOLARAM STEELS PVT. LTD. established in the year 1988 as a manufacturing unit at Nasriganj, Danapur, Patna -12 in state of Bihar, India. We are now a leading manufacturer of:
ELECTROFORGED GRATINGS
HANDARILS
CABLE TRAYS OR CABLE MANAGEMENT SYSTEM
CLAMPS
M.S. FLAT OR M.S. STRIPS
BHOLARAM STEELS PVT. LTD. is managed from its corporate office in Patna, Bihar, India. We having a well -qualified Marketing & Technical team, who are serving and managing
the domestic marketing.
OUR VISION
We believe to deliver high quality products at competitive price supported by the best service support. We have developed in house Manu facilities galvanized facilities, focused manufacturing process with in depth technology know-how, scales network associates across India and Abroad. Enthusiastic team of customer care is always ready to rush with in shortest time as per customer requirement. Our skill worth force has a performance record in satisfying diverse needs of customer around the globe.